certik audit
crypto news
icos
metablaze
metagoblin

In a move that is set to bring sustainable digitized art and creativity into the blockchain-based virtual world, MetaBlaze is preparing to launch its high-quality, character based MetaGoblin NFT Collection on OpenSea. The collection features traditional fantasy-themed Goblins-propelled into the Metaverse, developed to put more value in the hands of holders.
The Web 3 Company, MetaBlaze®, is gearing up for the official launch of its intricately detailed MetaGoblin NFT collection, set to list on the OpenSea NFT Marketplace in the coming weeks. The NFT project is inspired by in-game mystical creatures from a Player-versus-Player, Play-to-Earn game in development by the blockchain gaming firm. Following the OpenSea listing, MetaGoblin NFTs will also be listed on uber-popular rarity ranking websites. One of them is Rarity Sniper, a trusted platform that provides users convenient means to check the rarity rankings of NFTs.MetaBlaze, creators of the MetaGoblin NFT project, aim to bring more value and long-term sustainability to the NFT community through a complimenting integration of NFTs and the MetaBlaze Web 3 Ecosystem.
MetaBlaze strategically conjoins popular elements of GameFi and DeFi built upon sound fundamentals and proprietary technology to create a synergistic ecosystem designed to support a scalable and sustainable future. With an innovative approach, MetaBlaze is well positioned to become a leading player in the growing world of Web 3.0. Its founding team is one of the first-ever to KYC (Know-Your-Customer) with Certik, the world's leading Blockchain Security company.
MetaGoblin NFT Collection Explained
Minted with a maximum supply of 10,000, the MetaGoblin NFTs are more than just gorgeous, detail-rich, unique pieces of art; they represent the first playable characters to emerge in the 'MetaBlaze Metaverse' – an immersive, utility-driven, rewards generating, strategy-based gaming platform. Players will utilize MetaGoblins (and other MetaBlaze Series NFTs) to participate in unique Play-to-Earn games, contests, competitions, and more. Each MetaGoblin is unique – not just in appearance and story, but in its underlying meta-data attributes. A captivating tale unveiling the origin of the MetaGoblins was recently shared on the official MetaBlaze Youtube channel.
MetaGoblin NFT brings owners an array of utilities ranging from NFT Airdrops, IRL Events (In Real Life), 10% royalties, In-Game Land Parcel Airdrops, and more. The NFT collection features three-hundred and ninety-eight hand-produced 3D traits and consists of four levels of rarity: 8,897 Mystical, 1,000 Epic, 100 Legendary, and 3 Rare Kings. To see a complete list and learn more about the NFT Project, visit the
MetaGoblin NFT Gallery
.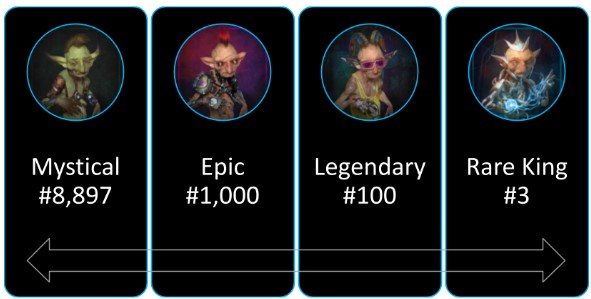 MetaGoblin NFT creators have shown an extraordinary commitment The forward-thinking team plans to continually reinvest NFT revenue to continue building its ecosystem and in-turn, create more value for holders.
Prior to the upcoming listing on the world's leading NFT Marketplace, OpenSea, a presale is currently ongoing for MetaGoblin NFTs. MetaBlaze will pay all mint fees for NFTs purchased during the ongoing presale and airdrop NFTs on the official OpenSea launch day.
MetaGoblins are about to make a move onto the world's largest NFT Marketplace, OpenSea. An official date is expected to be announced within the week. MetaBlaze is now giving early access to the NFTs before the official OpenSea listing, providing users the opportunity to acquire a MetaGoblin before the official Mint. All fees related with NFT minting will be paid for by MetaBlaze and the NFTs will be airdropped to rightful owners on the official release day.

To Learn more or buy a MetaGoblin NFT during the ongoing presale, visit https://MetaGoblin.io.

MetaBlaze is a Web 3 company using $MBLZ to power its multi-layered Metaverse. Built on the Binance Smart Chain, MetaBlaze merges popular elements of GameFi and DeFi to create a synergistic, and sustainable ecosystem.

CONTACT:
Michelle German
info@metablazetoken.com


--------------
Information Provided via Press Release
The Global Crypto Press Association | Crypto Press Release Distribution